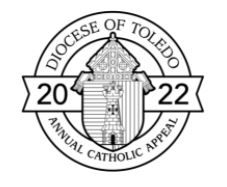 We have begun the 2022 Annual Catholic Appeal in all our parishes throughout the diocese.  This year's theme is "Do Prayer, Do Gratitude and Do Service"  You should have received a mailing this past week with further information and a pledge card for you to make your annual gift to the appeal.  Over the past years Rosary Cathedral parishioners have been more than generous in reaching our parish goal and have gone beyond.  I am asking you to consider your gift to this year's appeal so that we may reach our parish goal of $18,882.00.  As of April 29, we have surpassed our parish goal. We have raised over $23,000.
This annual appeal helps to fund the ongoing ministries for our diocese and truly has an impact on parish life.  Here at the Cathedral we are blessed to have some of the monies raised to help maintain our magnificent Cathedral.  You may make your gift by placing the envelope you received in the mail in the collection boxes at the Cathedral doors, bringing it to the parish office or mailing it directly to the address listed in the mailing which is on the envelope.  May we continue to pray for the success of this annual appeal throughout the entire diocese.  If you have already made your gift, I am grateful for your generosity.
Let us continue to pray for one another.
Monsignor William J. Kubacki
Cathedral Rector
Please see this link for more information and giving electronically: Annual Catholic Appeal (acatoledo.org)